DEVICO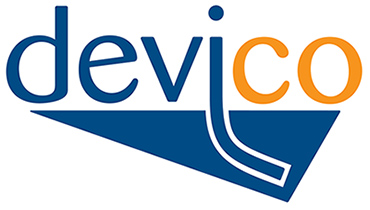 Devico AS
Devico has more than 25 year experience with directional core drilling (DCD) and borehole surveying. The company has developed a range of top quality instruments including directional core barrel, core orientation equipment, and both magnetic and non-magnetic downhole survey instruments.
Using these technologies, our clients reach their targets while reducing drilling costs. Today, Devico is the global market leader in providing directional coring services directly, and via its network of exclusive agents and subsidiaries.
National HUB LLC proudly joined Devico agent sales network and partners in 2017 and became official agent for Devico borehole surveying instruments.


DeviShot – The most solid Titanium STRUCTURE in a multishot survey tool.

This most versatile rugged instrument features a low voltage wireless communication system with Brilliant Blue Technology (BBT), a robust Titanium STRUCTURE with integrated running gear, limited maintenance, quality control of survey data, LED indicator for communication, battery control.

Available now in 30 mm or 35 mm diameter The DeviShot is designed with user-friendliness in mind and comes assembled and ready for use straight from the box. The integrated running gear enables operation at great depths, while an efficient BBT activation system ensures minimal power consumption and long battery life.

The DeviShot comes equipped with the IP67 rated Nomad PDA system and the highly flexible DeviSoft.Mobile software. It can be used in most situations and will for instance easily operate as single shot, multi shot, with constant or variable depth interval, and for surveying in and/or out. The instrument is ready to go as it is, regardless of whether you want to survey exploration boreholes, grout curtains or blast holes.

The DeviShot is using Brilliant Blue Technology to communicates wirelessly with the PDA and the results can be viewed on the PDA screen in the field once the data is downloaded from the tool. The results can thereafter be transferred to a USB-memory stick and given to the client, or further processed in DeviSoft, analyzed and plotted.
DeviFlex™ — Non-magnetic system with new Auto-Rotate centralizers for Surveying inside rods with the highest Precision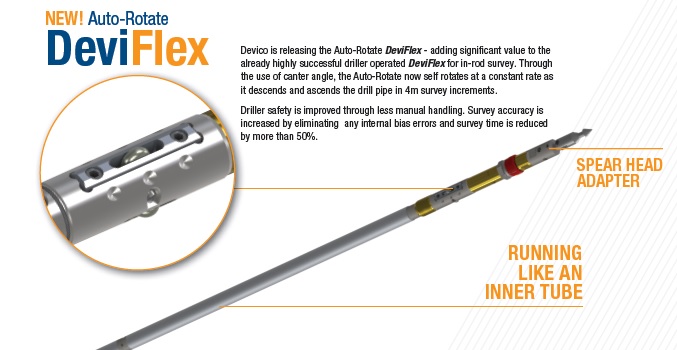 DeviFlex is a non-magnetic electronic multishot for surveying inside casings and drill strings by simply using the wireline system. Magnetic disturbances will not influence the tool at all and it is supposed to be simple to use. Just pump the tool into the hole and pull it out in given intervals. No adjustments are necessary.
The DeviFlex tool consists of two independent measuring systems. Three accelerometers and four strain gauges are used to calculate inclination and change in azimuth. In addition, the DeviFlex records and stores gravity vector, temperature, and battery capacity.
The DeviFlex fits casings and drill strings from B-size and up to P-size. You need one instrument and a set of sleeves with various wheel sizes to adjust for different hole dimensions. The tool has been proven to work in horizontal as well as vertical holes.
The DeviFlex communicates with a PDA, and the results can be viewed on the PDA screen in field once the data is downloaded from the tool. The data can thereafter be further processed in DeviSoft, analyzed, plotted and reported to the Client.


DeviCore™ BBT — Efficiency and reliability all in one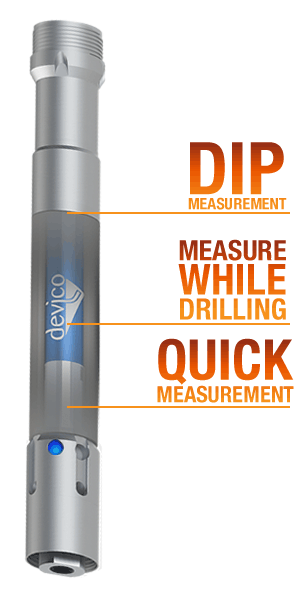 The DeviCore BBT represents an integration of the patent pending Brilliant Blue™ technology and other proprietary Devico technologies. The DeviCore BBT employs the same Devidip system probe technology which has proven to be an industry leader in reliability for more than 20 years as a part of the Devidrill, combining electronic core orientation integration with running gear.


The kit includes two DeviCore BBT probes and a core barrel extension and is ready to be assembled on the drilling equipment on site.
The probes also has a valve system in front securing that pump-in time is not affected. DeviCore BBT comes equipped with the IP67 rated Nomad PDA system and DeviSoft.Mobile software.
The operation follows a clear step-by-step procedure, and one probe can be started and downloaded while the other is down in the hole.


DeviCore BBT uses three high-accuracy accelerometers, it measures inclination, orientation, gravity vector, temperature and battery status, and offers quality control on the results.

Communication between DeviCore BBT and the PDA is done wirelessly via Brilliant Blue Technology.



USING DEVICO'S CCO SYSTEM OFFERS THE FOLLOWING ADVANTAGES:


No interruption of the drilling cycle, i.e.
Cost effective with Sale & Rental available
Regular readings and DIp control every time
Accurate orientations and inclination
Effective in a broad range of ground types and core breaks
Provides high orientation accuracy from 0° to +/-88° + dip
Digital data recorded for use in analyses at a later time






DeviSight™ — Ensuring your direction with a True North Azimuth Alignment System.




DeviSight Surface is non magnetic GPS compass for surface alignment application True North Azimuth, DIP, latitude and longitude coordinates.

The DeviSight is a portable battery operated system designed to make and record highly accurate measurements of True North azimuth, tilt and roll planes at drill sites. The DeviSight is the most accurate and easy system available on the market. The instrument uses GPS carrier phase measurements to accomplish the azimuth alignment. The collar azimuth data can easily be transferred by WI-FI.

The GPS signal is used to record, latitude and longitude coordinates of the alignment being measured. Highly accurate accelerometers allow transferring the alignment from a nearby location for e.g. fine tuning of rig alignment.

The DeviSight rechargeable battery life provides 11-12 hours on a full charge, twice the capacity of its closest competitor.

Features:


RECORD AZIMUTH, LATITUDE, LONGITUDE, INCLINATION, ROLL, DATE, TIME
MOST ACCURATE SYSTEM AVAILABLE IN THIS CATEGORY
FINAL SURFACE POSITIONS STORED IN A SECURE FORMAT



---