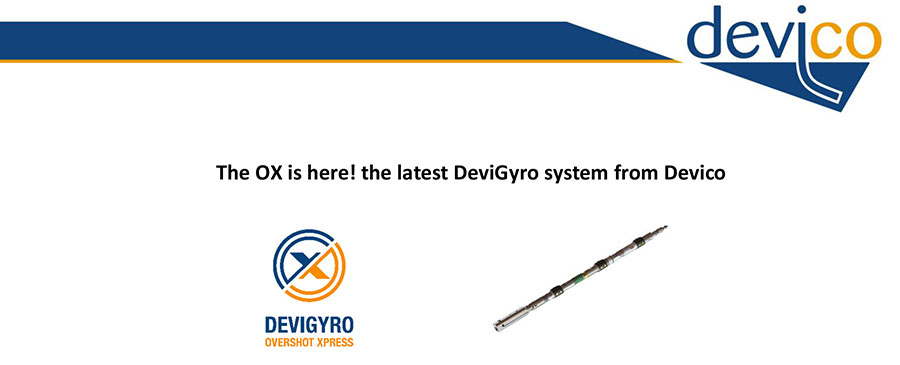 Devico AS, Trondheim, Norway leader in directional drilling innovations and manufacturer of drill hole positioning instruments, has released its latest DeviGyro system, the Overshot Xpress (or "The OX" for short), the shortest overshot surveying system on the market. The OX is powered by the DeviGyro, a high-speed miniature and continuous gyroscopic surveying instrument. With the OX continuous surveys can be performed at up to 100mpm while retrieving the core tube and such minimizing the impact surveying typically has on drilling productivity.
"The OX technology is fantastic! Comprehensive surveying without interrupting the drilling process, driving overall production up and the cost per meter down for our clients"; Geoff Muir, Managing Director of Australian Underground Drilling (AUD).
An important aspect of the OX is its short length and light weight. This compact design makes handling safer and easier, particularly underground or in other environments where space is restricted.
The OX is supplied with the DeviCounter for precise depth measurement and an Android device for operation and processing through intuitive, easy to use software. The data can be directly uploaded to DeviCloud for further processing and private sharing within the user group.
Overshot Xpress:
Sizes: NWL, HWL, PWL
Speed: up to 100 m/min
1.2m length
Underground and Surface
Precise at all angles
Immediate, stringent QA check
For further information, please contact your nearest Devico representative
Petro-Canada Lubricants and Liverpool Football Club Announce Global Partnership
Petro-Canada Lubricants Inc. and Liverpool Football Club have announced a 3-year partnership that will see Petro-Canada Lubricants become an official global partner of the Club.
As an official global partner of Liverpool FC, Petro-Canada Lubricants – a leader in innovative lubricants, specialty fluids and greases – will use its international presence working together with Liverpool FC to create unique programs for customers and fans alike, including exclusive access to LFC experiences.